Exhalation by Ted Chiang
Thursday June 13, 2019
Ted Chiang wrote Story of Your Life, which I liked a lot and became the movie Arrival. Exhalation has two more single-timeline deterministic time-travel stories at the beginning, but then it opens up a bit. Chiang's first collection might be better, but read this one too.
Spoilers as I briefly describe Exhalation's stories:
The Merchant and the Alchemist's Gate

Single-timeline time-travel with portals that can take you whenever they existed.

Exhalation

Entropy kills (but also some neat stuff on trying to understand brains).

What's Expected of Us

Oh man there's no free will.

The Lifecycle of Software Objects

Humanlike AI requires humanlike entities. I tend to agree with his take here.

Dacey's Patent Automatic Nanny

Some kid develops an attachment to machines rather than people.

The Truth of Fact, the Truth of Feeling

Let's understand Trump as pre-literate / maybe perfect (video) memory is cool?

The Great Silence

Maybe parrots are really smart?

Omphalos

A world with physical proof of creationism finds out it was God's practice planet.

Anxiety Is the Dizziness of Freedom

Devices for communicating between two parallel universes (one pair per device).
I never wrote about Stories of Your Life and Others, so I'll describe those too:
Tower of Babylon

It gets so high that it breaks through the firmament.

Understand

A guy gets crazy smart and fights with another smart guy.

Division by Zero
Story of Your Life

Cross-time awareness (single timeline) with aliens and writing.

Seventy-Two Letters

What if people really did grow from homunculi (also other weird stuff).

The Evolution of Human Science

People make more advanced humans and we can't understand them any more. (Possible connection to AI explainability?)

Hell is the Absence of God

A world where angels are real and messy, heaven and hell are real, etc.

Liking What You See: A Documentary

Turning off visual perception of human beauty.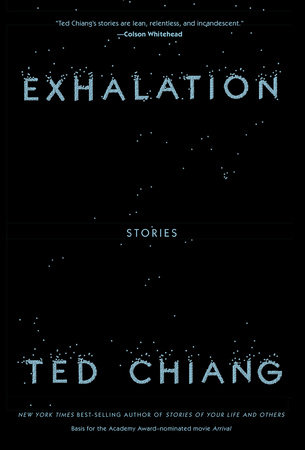 ---
Thanks Lenny for letting me know that Exhalation was available!